List of 23 New Sainik Schools approved Under Partnership Mode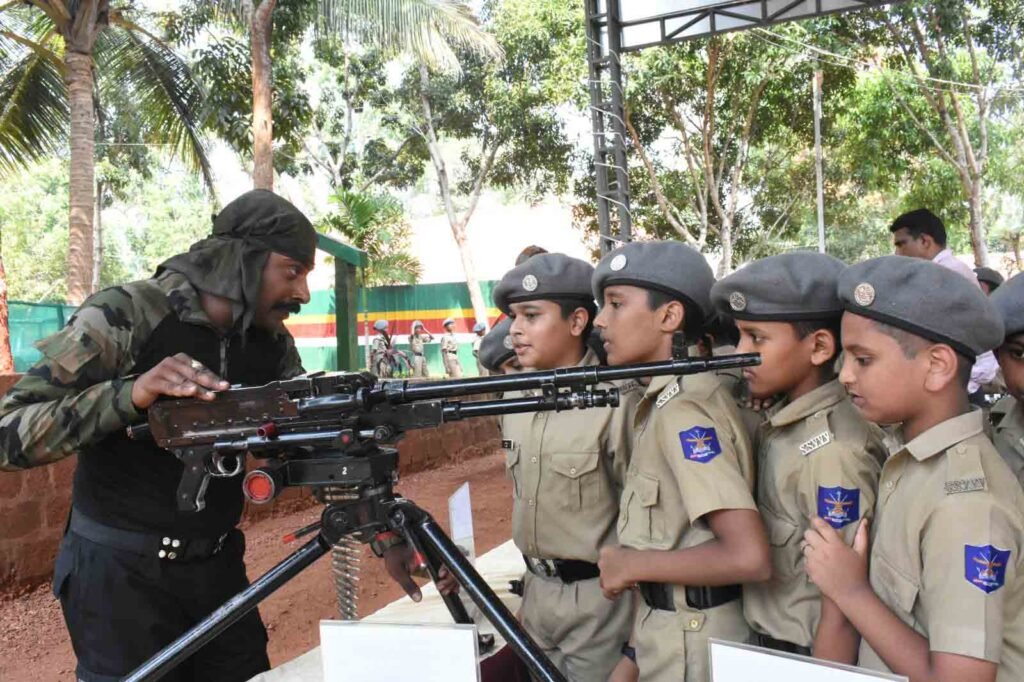 SNo
State Name
District
Name of School
Name of the Organisation/ Society
1.
Andhra Pradesh
Y.S.R
Z P High School, NallapureddypalliPuliven dula Mandal
State Govt. of Andhra Pradesh
2.
Bihar
Bhagalpur
Ganpatrai Salarpuria Saraswati Vidya Manir
Shishu Shiksha Prabandh Samitee, Patna
3.
Chhattisgarh
Bemetara
Allons Public School
Jhaiji Shikshan Samiti
4.
Chhattisgarh
Bilaspur
AadharshilaVidyaMandir
Sandipani Education Society
5.
Chhattisgarh
Raipur
The Great India School
Holy Heart Educational Society
6.
Chhattisgarh
Rajnandgaon
Delhi Public School
Kamla Vijay Charitable Foundation
7.
Haryana
Kurukshetra
Smt. Kesari Devi LohiaJairam Public School
Shree Jai Ram Vidya Pith
8.
Himachal Pradesh
Hamirpur
Woods Park School
Kailash Education Society
9.
Karnataka
Bidar
National English Medium Public School
Hyderabad Karnataka Education Society
10.
Kerala
Alapuzha
Vidhyadhiraja Vidyapeet om Central School, Mavelikkara
Vidyadhiraja Educational and Charitable Trust
11.
Kerala
Ernakulam
SreeSaradaVidyalaya
AdiSankara Trust
12.
Madhya Pradesh
Hosangabad
SaraswatiGramoday Higher Secondary School
Bhausahab Bhuskute Smriti Lok Nyas
13.
Madhya Pradesh
Katni
Syna International School
S N Education Society
14.
Madhya Pradesh
Khargone
Gokuldas Public School, Khargone
ShriGokuldas Education Society
15.
Maharashtra
Nagpur
Bhonsala Military School, Nagpur
Central Hindu Military Education Society Nagpur
16.
Maharashtra
Solapur
Adarsh Public School, Akulgaon (Kurduwadi)
Aadi shakti Shikshan Sansthan
17.
Rajasthan
Hanumangarh
Good Day Defence School
Guru Gobind Singh Charitable Trust
18.
Rajasthan
Jaipur
Shri BhawaniNiketan Public School
Shri BhawaniNiketan Education & Charitable
Trust
19.
Rajasthan
Jodhpur
Shri Hanwant Sr. Sec English Medium School Chopasni
ChopasniShikshaSamiti
20.
Rajasthan
Sikar
Bhartiya Public School, Sikar
BPS ShikshanSansthan
21.
Uttar Pradesh
Mathura
SamvidGurukulam Senior Secondary School
Param Shakti Peeth
22.
Uttar Pradesh
Lucknow
Surya Sainik School, Gomti Nagar, Lucknow
Surya Bux Pal Charitable Trust
23.
Uttar Pradesh
Etawah
Shakuntlam International School, UDI Etawah (UP)
Munna Smriti Sansthan
Defence Minister Rajnath Singh approves to set-up 23 new Sainik schools under partnership mode with Sainik School Society
Central Government had approved the initiative of setting up of 100 new Sainik Schools in partnership with NGOs, private schools, state governments. In September 2023 Defence Minister Rajnath Singh has approved setting up of 23 new Sainik Schools under partnership mode.
The new Sainik schools will set up in a phased manner class-wise, starting from Class 6 onwards. A memorandum of agreement (MoA) had been signed under this initiative by the Sainik Schools Society with 19 new Sainik Schools located all over the country. Now, 23 more of New Sainik Schools have been approved.

Know about All Old Sainik Schools in India
23 New Sainik Schools will most likely start functioning from next academic session. To Download 'Sainik School Cadet' app Click Here.
Know about All New Sainik Schools in India