19 Seats vacancies still intact for Boys & Girls for Class 6 admission
Sainik School Latest News: Admission counselling for All India Sainik Schools for class 6 & class 9 is conducted via Sainik School e-counselling platform. Registration & Choice Filling Start Date for Academic session starting April2023 was launched on 6 March 2023. There were four official Sainik School counselling rounds which had following starting dates:
1st Round: 6 March 2023
2nd Round: 7 April 2023
3rd Round: 29 April 2023
4th Round: 18 May 2023
However, if there were still unfilled/vacant seats, Sainik Schools were provided with Merit & Waiting Lists, and each individual Sainik School was required to call students on the merit list and request that they complete next steps in counselling such as Medical Examination & Physical Verification of Documents.
Sainik School E-Counselling Schedule
Following instructions are posted on official Sainik School e counseling portal:
1. Waiting list has been forwarded to the school.
2. Merit list/s will be prepared and uploaded on their websites from waiting list by the Sainik Schools based on the available vacant seat/s in the respective school in a particular category out of the Provisional waiting list as per policies/guidelines/instructions issued by Sainik Schools Society, MoD.
3. Kindly contact concerned school for admission/seats related information.
Sainik School Rewa releases Merit List Round 12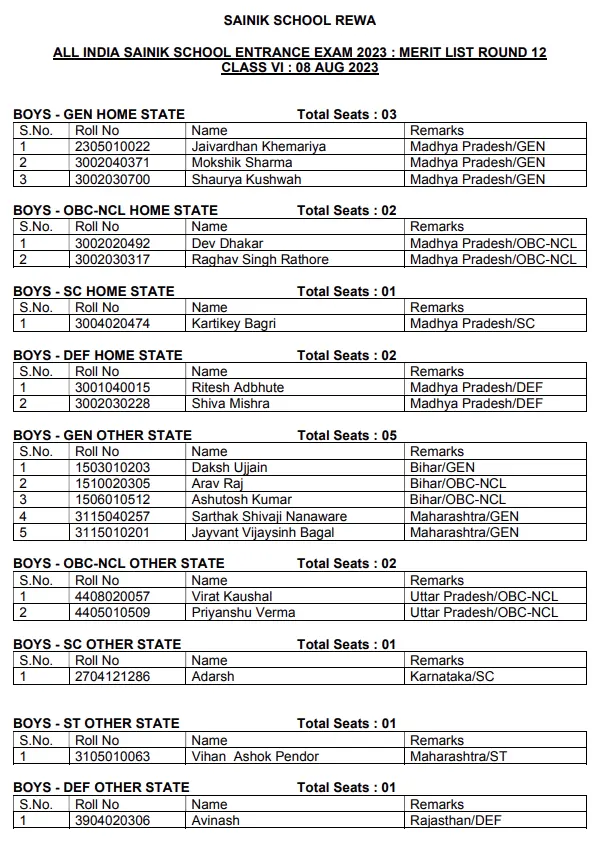 According to latest update issued by Sainik School Rewa (Madhya Pradesh) a sum total of 19 seats for boys and girls are yet to be fulfilled. Summary of Unfulfilled seats is as following:
Class 6 Boys (Home State) : 08 Seats
Class 6 Boys (Other State) : 10
Class 6 Girls (other State) : 01
Sainik School E Counselling Extended List of Candidates
You can click here to observe remaining (unfulfilled) seats for any given Sainik School of AISSEE 2023 or visit official website of given Sainik School. 
Sainik School Coaching Classes
If you are looking to prepare your child for entry into Sainik Schools then our team at "Sainik School Cadet" can guide you. For Sainik School Online Classes, you can connect with us on 8595669919 or read our most popular post for Complete Sainik School Admission preparation here.