Sainik School latest News: Sainik School Satara, Maharashtra released its 12th merit list as part of All India Sainik Schools admission counselling for academic session 2023-24 in which the waiting list of 15 candidates who are provisionally selected for admission to classes VI and IX (leftover vacancies after completion of Round-IV of E-counselling & due to withdrawal cases) was made publicly available on school website. Read : Sainik School Satara releases 12th merit list AISSAC 2023.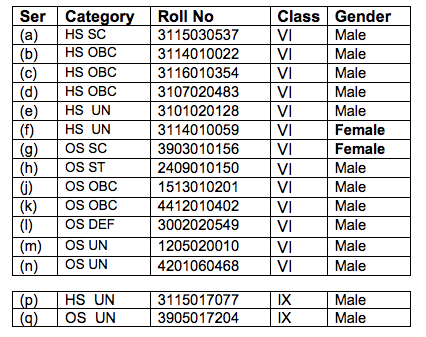 New admission counselling process by NTA for Sainik Schools is troublesome
We'd like to provide an update to readers who may be wondering, 'How come Sainik Schools are accepting new students right now, considering we're already halfway through the school academic season'? This troublesome admission schedule is the outcome of the newly accepted All India Sainik School Admission Counselling procedure used by NTA and the Sainik School Society for admission into Old and New Sainik Schools.
On the official communication page from Sainik School Satara regarding 12th merit list it is mentioned
1. It is intimated that the admission is provisional and will only be confirmed after the successful completion of medical cum physical documents verification and payment of School fee.
2. Medical Performa and other documents are to be downloaded from E-Counseling portal
(https://pesa.ncog.gov.in/sainikschoolecounselling/landingpage)
3. State quota of 25% i.e. 08 seats has been considered while preparing the merit list in
respect of student of other states.
4. Appearance of name in merit list does not guarantee admission. Admission in Sainik
School is subject to Medical Fitness of the candidate and submission of relevant documents,
school fee etc. within the prescribed time. Failing to do so, the candidature of the candidate
will liable to be rejected.
Download 'Sainik School Cadet' app on Google Play – India's #1 Choice for Sainik School AISSEE 2024
Now that you have gone through 'Sainik School Satara releases 12th merit list' blog post we would like to point it out that if you are looking to prepare you child for Sainik School Entrance exam 2024, then you can connect with us for complete exam preparation & guidance. We have given greatest number of selections from Delhi-NCR in recent years. class 6 syllabus for sainik school.

FAQ's
What is full form of AISSAC?
Full form of AISSAC is All India Sainik School Admission Counselling.
What is full form of AISSEE?
Full form of AISSEE is All India Sainik School Entrance Exam.
How to check Sainik School exam?
To Check Sainik School exam result you can visit official NTA website.
How to select Sainik school?
Every students gets to select one Sainik school as his choice while applying online for Sainik School entrance exam.
Which is the best app for Sainik school preparation?
'Sainik School Cadet' is the best app for Sainik school preparation. It has Live classes, Free pdfs, Sainik School magazines, previous year exam papers for your 100% selection in All India Sainik Schools.
Know about All Old Sainik Schools in India
Know about All New Sainik Schools in India