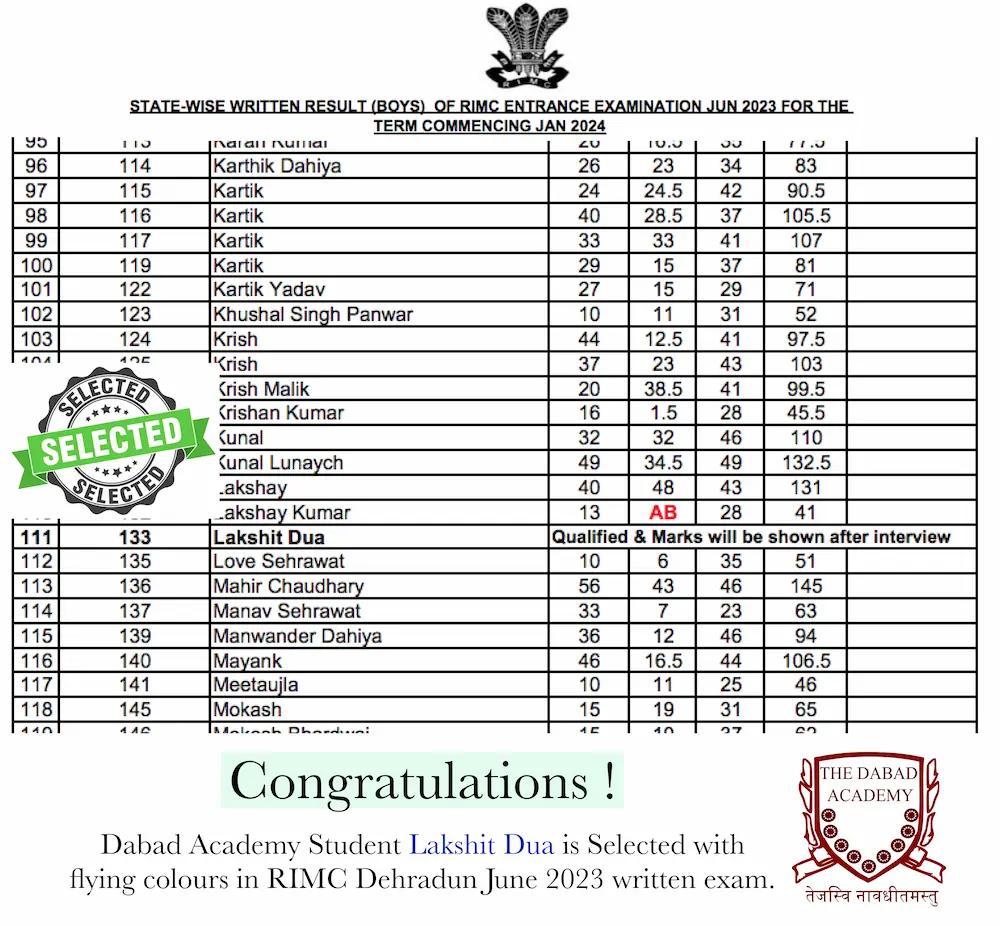 RIMC Dehradun releases written exam result for June 2023 exam
RIMC Latest News: On 17 November 2023, RIMC Dehradun has released its June 2023 Written Exam result. There are two separate lists for Boys & Girls. RIMC Dehradun is a category A establishment by Ministry of Defence which serves as a feeder school to National Defence Academy, Khadakwasla. In our report 'RIMC Dehradun June 2023 Written Exam' we will provide you with links to download written exam result.
RIMC Dehradun organises its entrance exam twice per year ie every June & December. For the latest June 2023 written exam result Pdf, visit here. This download link is attached to Dabad Academy Telegram group. Please download Telegram app if link is not working. (report on RIMC Dehradun June 2023 Written Exam download link)
List of Boys Selected for RIMC Dehradun June 2023 Exam
23 Boys across India have qualified for RIMC Dehradun June 2023 written exam. These selected boys have to appear for interview in coming days. Following is the list with names of boys who have qualified in written exam:
Andhra Pradesh : Mukala Chaitanya, Sambaturu Veera Praja Pathi Reddy
Arunachal Pradesh : Nil
Assam : Nil
Bihar : Satvik Shourya, Ritik Raj, Kaushal Kishore, Prem Sarawagi, Keshav Kumar, Ansh Roy, Abhiraj Nanda
Chhattisgarh : Nil
Delhi : Nil
Goa : Nil
Gujarat : Vaghasiya Jay Sanjaybhai
Haryana : Jatin Sihag, Lakshit Dua
Himachal Pradesh : Nil
Jammu & Kashmir : Naman Sharma, Atiksh Mahajan
Leh : Nil
Jharkhand : Nil
Karnataka : Nil
Kerala : Nil
Madhya Pradesh : Nil
Maharashtra : Atharv Sushant Jadhav, Kaustubh Hemant Adhav, Yogi Mahendra Gupta
Manipur : Nil
Meghalaya : Nil
Mizoram : Nil
Nagaland : Nil
Odisha : Nil
Punjab : Sringesh Bisht
Rajasthan : Shivraj Singh Shekhawat
Sikkim : Nil
Tamil Nadu : Nil
Telangana : Nil
Tripura : Nil
Uttar Pradesh : Deepanshu Chaudhary, Aarush Rana
Uttarakhand: Aditya Rayal, Kanishk Suyal
West Bengal : Nil
Andaman Nicobar : Nil
Chandigarh : Nil
Puducherry : Nil
List of Girls Selected for RIMC Dehradun June 2023 Exam
Only four girls across India have qualified for RIMC Dehradun June 2023 Written Exam. The names of qualified girls with their Zones is following:
West Zone : Gujarat – Payal Choudhary
North Zone : Haryana – Mukta, Vidushi Yadav
Central Zone: Uttar Pradesh – Zeeva Singh
Download 'Sainik School Cadet' app for RIMC Dehradun Coaching Classes.
If you are looking to prepare for RIMC Dehradun entrance exam, then you can connect with Dabad Academy team on 8595669919. Dabad Academy is top name in Delhi-NCR for RIMC entrance exam training classes. For Sainik School 2024 application form read here.
Know about All Old Sainik Schools in India