SS Rewa (MP) releases Round 16 All India Sainik School Admission Counselling list
Sainik School Latest News: As part of ongoing All India Sainik School Admission Counselling (AISSAC) Sainik School Rewa, Madhya Pradesh released its 16th merit list of students who are called for Medical examination. (Sainik School Rewa releases 16th Merit List)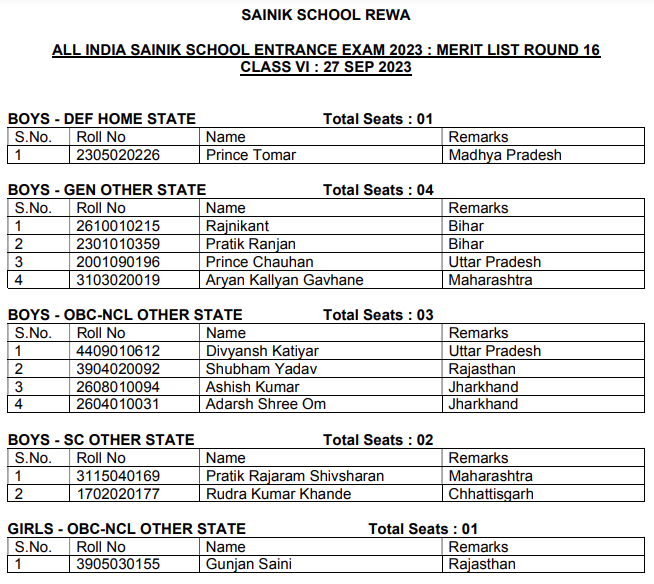 Sainik School Rewa releases 16th Merit List : Guidelines for Successful Students for Medical & Counselling
Medical Performa and other documents are to be downloaded from
https://pesa.ncog.gov.in/sainikschoolecounselling/DocumentDetailsUrl
State quota of 25% has been considered while preparing the merit list in respect of student
of other states.
Appearance of name in merit list does not guarantee admission. Admission in Sainik
School is subject to Medical Fitness of the candidate and submission of relevant documents,
school fee etc. within the prescribed time. Failing to do so, the candidature of the candidate will
be liable to be rejected. (Sainik School Rewa releases 16th Merit List)
How to Join Sainik Schools?
Read this post to get in-depth understanding on how to join Sainik Schools. For complete information on Sainik School admission for girls, Read this post. For Sainik School Previous year exam papers, Download here.
For AISSEE News & latest updates, Download 'Sainik School Cadet' app for Sainik School admission preparation. class 6 syllabus for sainik school.
Old Sainik Schools Admission Information
Know about All New Sainik Schools in India