Sainik School Scholarships 2024
Complete details of Sainik School Scholarship, Charges and how to avail scholarship for your son/daughter at Sainik Schools 2024
AISSEE 2023 was conducted on 8 Jan 2023. A total of 1,33,515 students applied for approximately 3000 seats in All India Sainik Schools. Out of these 3000 students who were successful, how many will receive scholarships for their education at Sainik School? Read on to find out.
The Sainik Schools are reputed Public Schools which imparts Excellent Military oriented Education up to Class XII of the Central Board of School Education. The Primary Aim of all Sainik Schools is to prepare Boys & Girls for a career in the Officer Cadre of the Armed Forces. The Medium of instruction in All Sainik Schools is English.
To Facilitate education at Sainik Schools, Govt of India via Ministry of Defence & State Governments provide Scholarships to students in following areas

a) From Limited Economic means.
b) Excellent Academic Track Record.
c) Armed Forces Background.

On a Broader Level, Scheme of Scholarships at Sainik Schools are of two kinds:

a) Provided by the Ministry of Defence. Only for Defence Wards whose father is in active service (Army, Navy, Airforce) or retired from active duty (with Valid PPO). 
b) Provided by State Government for students from Limited Economic means. 


A Cadet at Sainik School can avail of only one of the above. A lot of supporting documents are attached in scholarship forms so that there is no by-passing of rules. 
Sainik School Fee Structure 2024
Schooling at All India Sainik Schools is heavily subsidised when compared to schools with similar infrastructure in civil society. To encourage further assimilation of students from disadvantageous backgrounds, generous scholarships are offered to all eligible students. Before getting a more in-depth understanding of Scholarships at Sainik Schools, Let's first have a brief look at fees and charges at Sainik Schools. Sainik School Scholarship 2024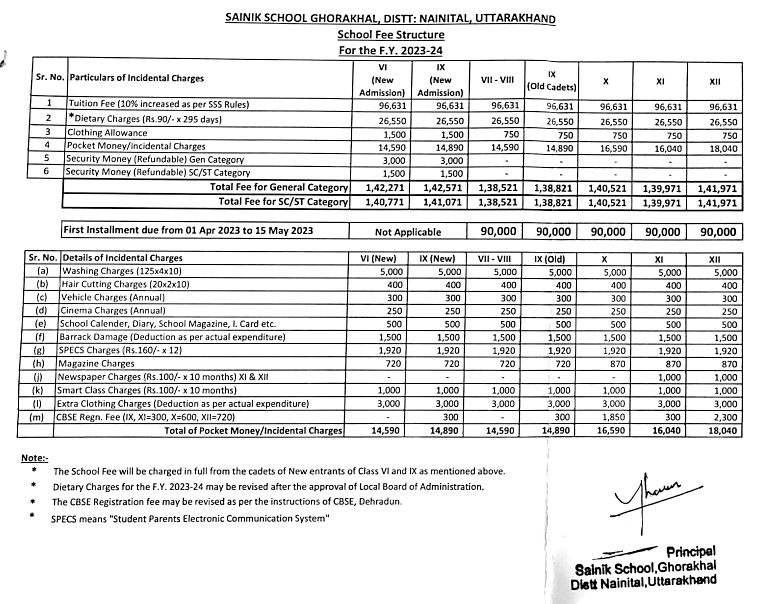 Above image illustrates fees and charges at Sainik School Ghorakhal (Uttarakhand) for Academic Year 2023-24. Total overall fee charges for most All India Sainik Schools hovers in the range of 1.40 to 1.70 Lakh for academic year 2023-24.
Sainik School Scholarships 2024: For Home State Domicile Students
Every State Government has a different Income Slab criterion to determine scholarship amount issued to a cadet at Sainik School. Some states do allow clothing rebate while others don't. For Example, Look at Sainik School Scholarship issued to Punjab Domicile students at Sainik School Kapurthala by Punjab Government. Please note: Scholarship amount provided by each state government varies and doesn't follow by default figures which are mentioned in table below.


Central Assistance for State Govt Scholarship Holders
Apart from receiving State Govt Scholarship, Eligible cadets at Sainik Schools also receive a modest amount as scholarship from Ministry of Defence as well.
Illustrative example is attached below. 

| | | |
| --- | --- | --- |
| Full Scholarship Holders Only | 3/4 Scholarship Holders Only | 1/2 Scholarship Holders Only |
| | | |
Ministry of Defence scholarship
Unlike State govt Sainik School Scholarships, Ministry of Defence Scholarships are same for all students across All India Sainik Schools. For Ministry of Defence (MoD) scholarships, a cadet is required to submit his Father's Serving Certificate and if child's father is retired from service then a copy of 'Discharge Book'. Amount details of MoD scholarship are as following.

Other State Govt Scholarships
Students from other states who are studying in a Sainik School located in a state other than their home state are also rewarded scholarships at Sainik Schools. But this doesn't hold true in all the cases. For eg: Bihar government has setup scholarships in almost all other Sainik Schools across the country for students of Bihar Domicile. See following table for details. 

As you must have observed, Scholarship amount is reduced significantly when compared to 'home state' domicile scholarships. Sainik School Scholarship 2024.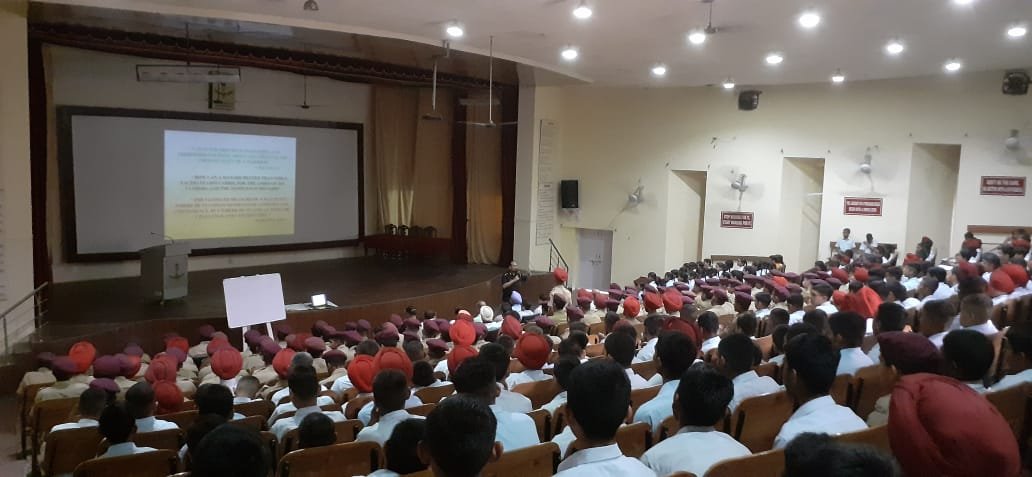 Documents Required for Sainik School Scholarship
While the exact list of documents is issued by your Sainik School for Sainik School Scholarship, here is a tentative list of documents which are to be submitted by a cadet for successful Scholarship dispersal. 
'SainikSchoolCadet' app and teacher's team is your surest backup to clear All India Sainik School Entrance Exam 2024. Since 1961, Sainik Schools have produced excellent leaders. Sainik School alumni have reached positions such as Vice-president of India, Governor, Chief of Army Staff and so on. There is absolutely no doubt as to why you shouldn't send your child to these prestigious schools. 
To Prepare for Sainik School Entrance Exam via Online/Offline Sainik School Coaching or Hostel Program, you can connect with 'SainikSchoolCadet' team on +91 8595669919 and schedule a counselling session with Dabad Academy Team. 

We specialise in Sainik School Online Coaching Classes and interview preparation for India's Best Sainik Schools. 
Sainik School Scholarship 2024 : Frequently Asked Questions (FAQ)
What is Scholarship amount in Sainik School 2024?

Ans: For most Sainik Schools depending upon Parent's income and category, Scholarship amount ranges from Rs30,ooo to Rs60,000.

Is Scholarship provided to every student studying in Sainik School?

Ans: No. Scholarship is provided only to eligible students with right supporting documents.

My earning is above 5 lakh per annum. Will my child receive Sainik School Scholarship?

Ans: In some cases, Yes. You need to connect with Sainik School accounts team to confirm exact amount.

What is the Scholarship for Civilian Wards in Sainik School?

Ans: Mostly it ranges from Rs30,000 to Rs65,000 depending upon state to state and category to category. 

What is the Scholarship for Defence Wards in Sainik Schools?

Ans: Hostel Subsidy provided by Central Government for Hostel studying students is Approximately Rs81000 (Yes, you read that correct). However, you can avail only one kind of Scholarship.

Is education at Sainik Schools Costly?

Ans: When compared to a school with similar infrastructure in Civil field, Education at Sainik Schools is heavily subsidised. 
Still Confused? Don't know where to Start? 
Then reach out to us for Best Sainik School Coaching & Guidance. Since 2016, Dabad Academy has given Greatest Selections and is consistently rated as best Sainik school coaching in India. Sainik School Coaching by Dabad Academy also provides hostel facility in a modern training infrastructure. Looking forward to hear from you.  


Click here to Join Dabad Academy Parent's Whatsapp Group