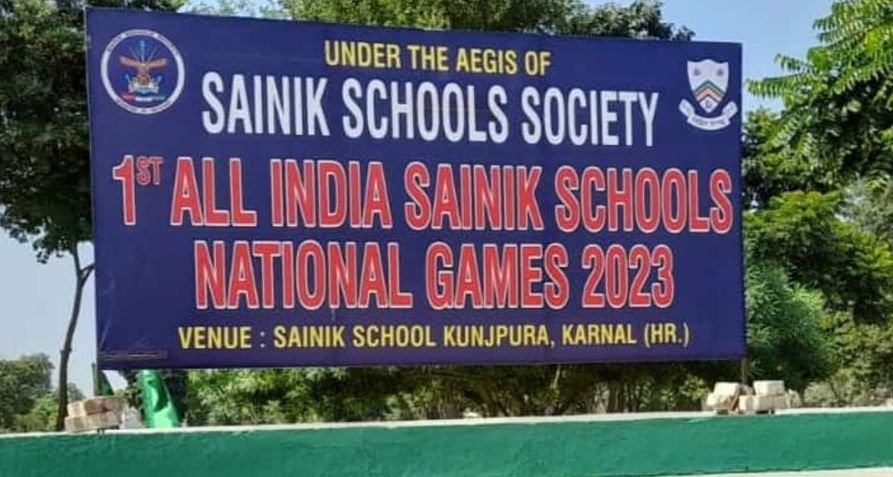 1st All India Sainik Schools National Games 2023 are Hosted at Kunjpura
Sainik School Latest News: All India Sainik School National games 2023 began with much fanfare at Sainik School Kunjpura Karnal (Haryana) on 11 Oct 2023. Maj Gen Sanjay Maini was the Opening Ceremony's Chief Guest. Chief guest also paid his respects at 'Sai Kunj' war memorial & received guard of Honour from Sainik School Kunjpura Cadets. On the occasion, Principal Col Vijay Rana stated that the Sainik School National Games are being held to instil sportsmanship and channel exceptionally gifted Sainik School cadets towards sporting greatness. He further stated that Sainik School Kunjpura had the requisite infrastructure and has made the necessary preparations to organise a sporting event of this magnitude. All India Sainik Schools National Games 2023 closing ceremony will be organised on 17 Oct 2023.
A total of 32 Sainik Schools from across the country are participating in these games. Prime competitions involve games such as Volleyball, Basketball, Hockey & Athletics among others. Girl cadets are participating only in Athletics in the 1st All India Sainik Schools National games. To know about how girls can join Sainik Schools, Read here. To know about Sainik School Kunjpura 2024-25 admission, read here.
Earlier during the year, Sainik School National games were conducted as per Group (Zone) level in which all Sainik School were divided as per Group A, B, C and so on. For example: Schools in Group A were Sainik School Nagrota (J&K), Sainik School Kapurthala, Dayanand Public School Nabha, Sainik School Kunjpura, Royal International School Haryana, Raj Luxmi Samvid Gurukulam Sainik School Nalagarh and host Sainik School Sujanpur Tira.
For eg: All India Sainik Schools National Games and Cultural Meet 2023 (Group-F ) host was Sainik School Sambalpur.
How to Join Sainik Schools?
Read this post to get in-depth understanding on how to join Sainik Schools. For Sainik School Previous year exam papers, Download here. For AISSEE News & latest updates, Download 'Sainik School Cadet' app for Sainik School admission preparation. Joining Sainik Schools & Rashtriya Military schools could be right decision for your child if he/she aspires to join Indian Armed Forces in officer cadre. Connect with us for a counselling session. (Reporting for All India Sainik Schools National Games 2023). Get Latest AISSEE 2024 Sainik School Admission information here.
Sainik School Coaching Classes details
Know about All Old Sainik Schools in India